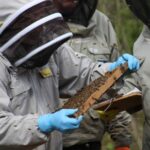 We are lucky enough to have our own association apiary which is located in the gardens of Wentworth Castle at Stainborough.
It can be a little difficult to find as access isn't through the usual public route.
The car park is located on the map below and the W3W location is: https://w3w.co/memo.rarely.book (park underneath the pine trees).
The apiary is a short work through the double gates and left into the walled garden, shown on the map and at the W3W location: https://w3w.co/games.pokers.vast